11.02.2009: Our hhDealer client software is born.
Easy and fast download of your handhistories!
Two simple clicks and you are ready to import the handhistories into your database. No need to hassle around with emails (you can still download the hands via email if you prefer).


>>> Download Version 1.58 <<<
>>> Download Version 1.58 (without installer)<<<
Microsoft .net 2.0 or higher is required:
Microsoft .net 2.0: Download
V 1.58:
Minor fixes.
V 1.56:
WPN support, Spin&Go support.
V 1.48:
SNG support.
V 1.45:
Fixed the extraction of iPoker hand histories.
V 1.43:
Added Microgaming, Winamax.fr and Ongame.fr.
V 1.37:
Added
Live Tracking
.
V 1.35:
Added support for Winamax.fr.
V 1.34:
Added the ability to select multiple downloads easily.
V 1.33:
Added ability to see the "end" date of a subscription.
V 1.31:
Added unzip options.
V 1.27:
Support for FTP.
V 1.25:
Support for 888 Push/Fold.
V 1.24:
Support for iPoker 1 + 2.
V 1.23:
Hand converter added.
V 1.22:
Added 888 (Pacific) support.
V 1.20:
Added Ongame.IT support.
V 1.16:
Fixed unzip of Merge hand histories.
V 1.14:
Added Merge network support.
V 1.12:
Added Ongame network support.
V 1.10:
Added Cereus (AbsolutePoker + UltimateBet) support.
V 1.05:
Added ability to select/unselect/remove all files.
Overview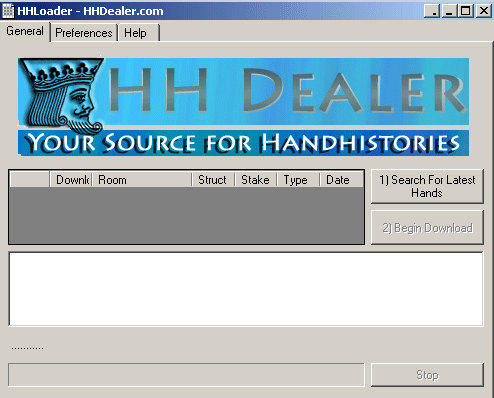 How to set up?
Configure the preferences tab.
Enter your email address and set the destination directories for the hand histories: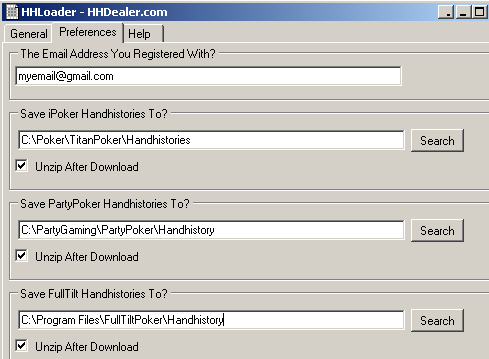 Step One
Click "Search for latest hands":


Step Two
Click "Begin download" to let the HHLoader download and unzip your hand histories: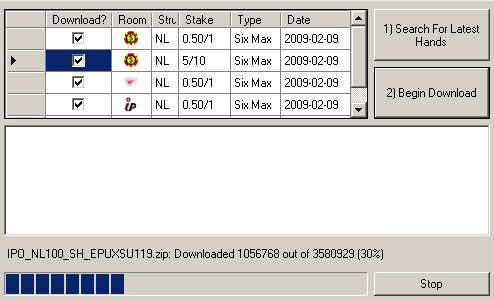 Live Tracking (currently testing)
The optional Live Tracking will bring you new hand histories every couple of minutes.
This mean you don't have to wait until tomorrow to get todays hand histories.
Simply click Dowbload New Hand Histories to check for new hands and to start the download.